Adventure touring in India has gained decent popularity. People are now looking for a bike that can fulfil all the purposes of owning a bike like touring, daily commutes or even off-roading. Many brands have offered ADVs that are directly competing against each other in the affordable price bracket like Royal Enfield, KTM, Hero, BMW, Benelli etc. But Royal Enfield, a great rival, entered the ADV segment when the Indian market hardly had any competition in this particular segment(btw Royal Enfield was the first brand to produce an ADV). 
With Himalayan, Royal Enfield began their journey towards this segment with the hope of making a change. Initially, this motorcycle had some flaws that became the reason for criticism, but over time, the company has improved this bike and now in 2023, Royal Enfield has done more work on improving it further like the bigger windscreen, improved seats and a Navigation display as well.
Let's discuss more regarding Royal Enfield Himalayan BS6 :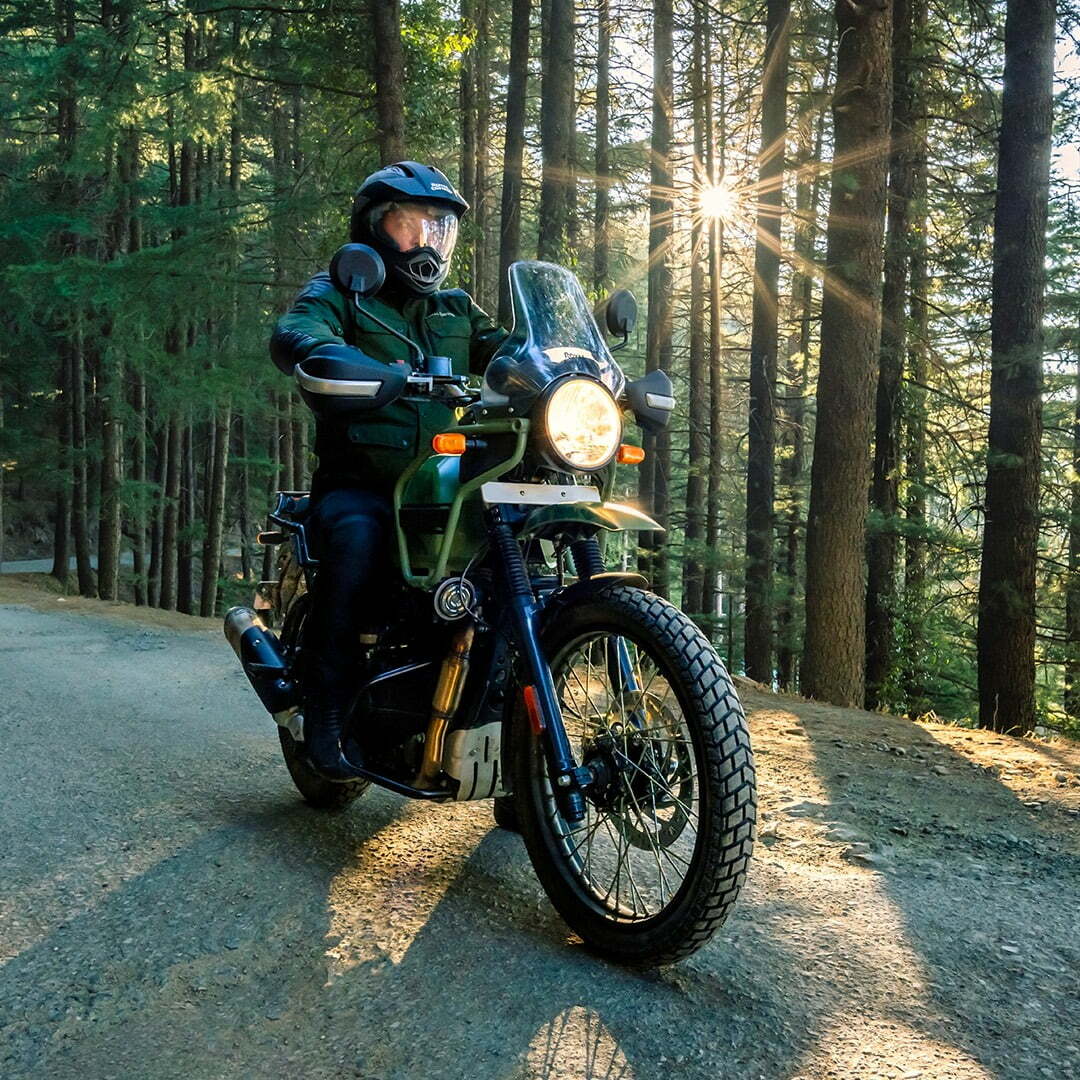 New Features:
Superb long-stroke engine
Spoke Wheels
Beautiful paint schemes
Better Windscreen
All-new navigation display
Additional plate for rear luggage carrier
1. Superb Long-stroke engine:
The best thing about all of the Royal Enfield bikes is their Long-stroke engine, which is why they have so much torque on offer.
In simple words, a Long-stroke engine has more pulling power as compared to a Short-stroke engine. Long-stroke engines are low revving and hence have better low-end torque as compared to Short-stroke engines.
Having such an engine, Royal Enfield Himalayan performs better at lower rev band because of high torque which is easily available at lower revs. This property helps a lot in off-road and rough terrain, where we are bound to ride at slower speeds.
To know more about Long-stroke and Short-stroke engines, click here.
2. Spoke Wheels:
Many of you might know the objectivity of Spoke wheels, but for those who don't know, Spoke wheels have their own advantages in an Adventure Tourer. Himalayan is among the few Adventure Tourers with Spoke wheels, all other brands provide Alloy wheels which are not that useful in an Adventure Tourer. 
Spoke wheels are shock-absorbing in nature. This characteristic helps the bike as well as the rider in rough terrain.
Being shock-absorbing, Spoke wheels don't get damaged easily and are much more reliable than the Alloy wheels in Adventure Tourers.
Moreover, Spoke wheels don't get any cracks while riding in rough conditions, Alloy wheels usually get cracks due to rough terrain.
Spoke wheels are not the best, even though they have certain flaws like being vulnerable to punctures(as mostly they are tubed tyres) and all. But with certain modifications and innovations, these wheels have performed really well over time.
3. Beautiful Paint Scheme:
Royal Enfield already has great paint schemes for Himalayan, but their new paint schemes are anyways better than the previous ones. Pine Green, Granite Black, Mirage Silver and Gravel Grey are the new paint schemes that are more attractive than all other previous paint schemes.
4. Better Windscreen:
Long rides at higher speeds are comfortable with a better windscreen. Although the windscreen of the previous models was decent, it was not good enough for higher speeds and the windblasts affected the quality of riding. Royal Enfield has done good work by improving the windscreen altogether.
Now highway rides will be more comfortable than before and windblasts will also be reduced.
5. All-new navigation display:
Well, it looks slightly weird as if it has been attached to the console after finishing the production of the motorcycle. It performs well, it navigates properly, but the way it has been installed in the instrument console looks weird. It doesn't show maps but instead shows the directions(which is sufficient btw).
6. Additional plate for rear luggage carrier:
In the previous models, Royal Enfield Himalayan had a top case carrier, it is still there but slightly improved. Now it gets an additional plate for better handling of rear luggage.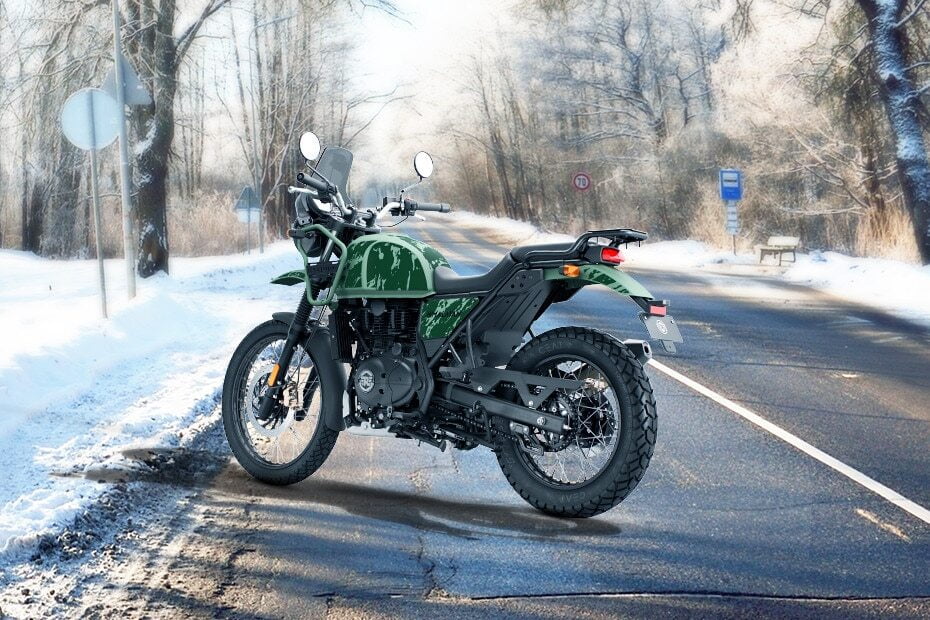 Himalayan BS6 – 2023 Specifications:
Colour Variants:
The Royal Enfield Himalayan BS6 is available in so many colour options, namely:
Snow
Granite
Sleet Grey
Gravel Grey
Lake Blue
Rock Red
Mirage Silver
Granite Black
Pine Green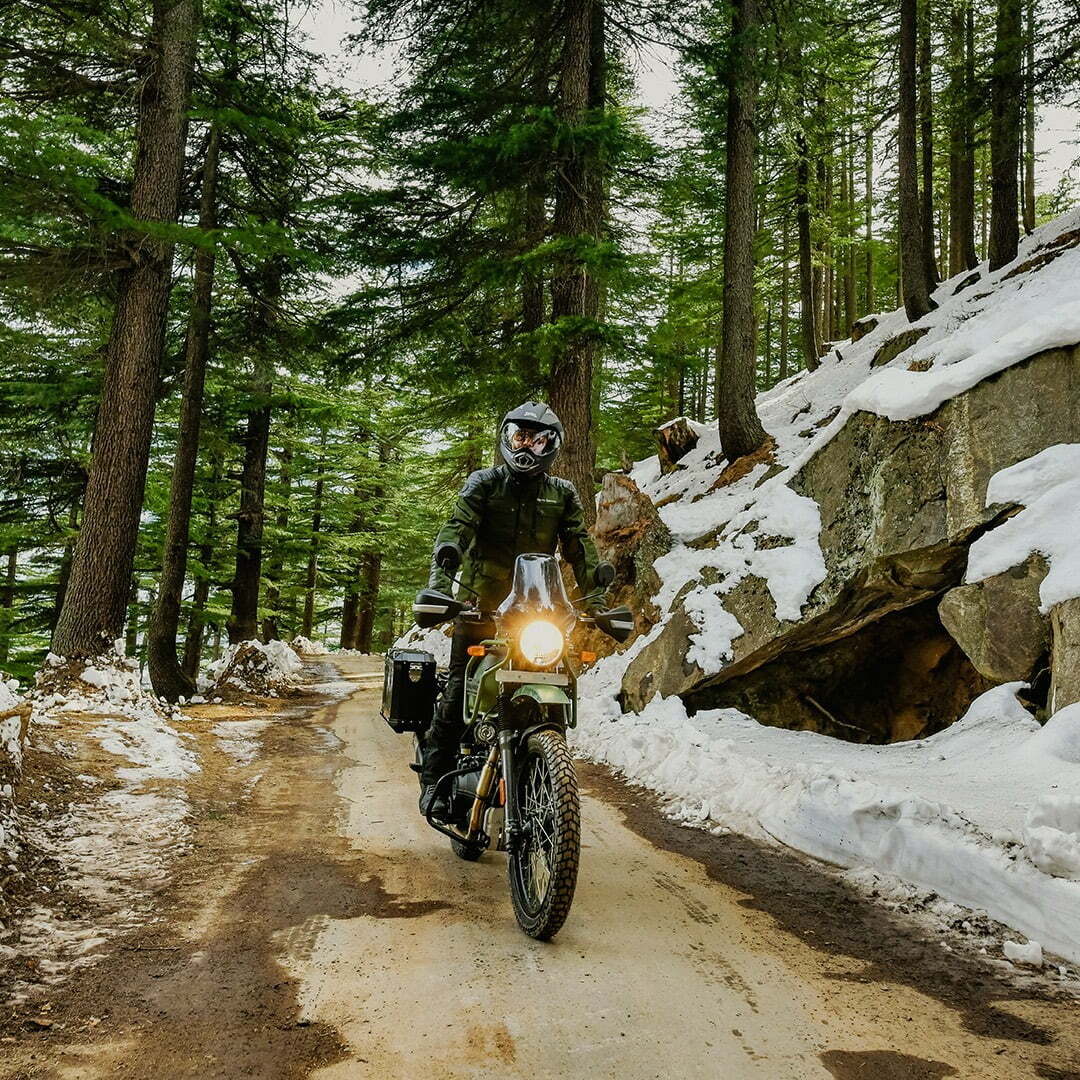 Engine Specifications:
| | |
| --- | --- |
| Displacement | 411 cc |
| Power | 24.3 bhp @ 6,500 rpm |
| Torque | 32 Nm @ 4,500 rpm |
| Engine cooling | Air Cooled |
| Emission Standard | BS-VI |
| Number of cylinders | 1 |
| Fuel delivering system | Fuel Injection |
| Fuel type | Petrol |
| Bore | 78 mm |
| Stroke | 86 mm |
| Transmission type | Chain Drive |
| Gearbox type | Manual Transmission |
| Number of gears | 5 |
Performance and Efficiency:
| | |
| --- | --- |
| Max speed | 125 KMPH |
| Fuel tank capacity | 15 Litres |
| Fuel tank range | 370-400 KM(approx.) |
| Mileage | 28-32 KMPL(may vary) |
Wheels, Tyres and Suspensions:
| | |
| --- | --- |
| Tyre (front) | 90/90 |
| Tyre (rear) | 120/90 |
| Front Wheel Size | 21 inch |
| Rear Wheel Size | 17 inch |
| Tyre Type | Tubed |
| Wheel Type | Spoke Wheels |
| Front Suspension | Telescopic, 41 mm forks, 200 mm travel |
| Rear Suspension | Monoshock with linkage, 180 mm wheel travel |
Brakes:
| | |
| --- | --- |
| Front Brake | Disc |
| Front Brake Size | 300 mm |
| Rear Brake | Disc |
| Rear Brake Size | 240 mm |
| ABS | Switchable Dual Channel ABS |
Electricals:
| | |
| --- | --- |
| Headlight Type | Halogen 12V, H4-60/55W |
| Tail Light Type | LED 12V, 4/1W |
| Battery | 12 volt, 8 AH MF |
| Speedometer | Analogue |
Dimensions:
| | |
| --- | --- |
| Kerb Weight | 199 kg |
| Seat Height | 800 mm |
| Ground Clearance | 220 mm |
| Chassis Type | Half-duplex split cradle frame |
Is it worth buying Royal Enfield Himalayan BS6 2023?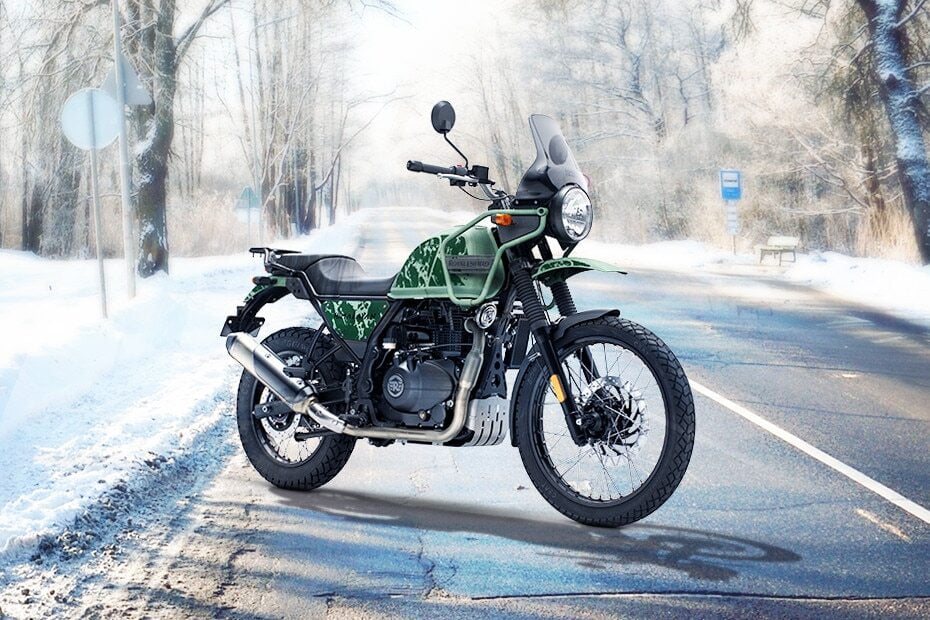 To get the answer let's first see the various features and pros of this bike.
High Ground Clearance
Royal Enfield Himalayan has a high ground clearance which is an absolute need for off-roading. Higher ground clearance means better performance on rough terrain and off-road.
The engine has higher torque
With a long stroke and high torque, this bike has a lot of pulling power. Hardly any of its rivals have that kind of engine in this segment.
Dual-purpose tyres with spoke wheels
An ADV is incomplete without Dual-purpose tyres and spoke wheels. Spoke wheels perform better on rough terrain and hence are used in Royal Enfield Himalayan.
Comfortable riding position
Long rides need a comfortable position to not hurt your spine and wrists. Himalayan comes with an upright posture which is required for touring.
Good luggage carrying capacity
You can carry everything that you require during your ride without compromising on the comfort or the ride quality, as the bike has enough space to mount a tank bag and the rear rack give an extra edge over its rivals to fit a top box as well.
Switchable ABS
Rear brake ABS can be switched off for better controlling of the bike on off-roads.
Seat height
ADVs are known for their taller seat heights, Royal Enfield Himalayan is an exception in this case. It has a seat height of 800mm, which is manageable for most people.
Cons of Royal Enfield Himalayan BS6 2023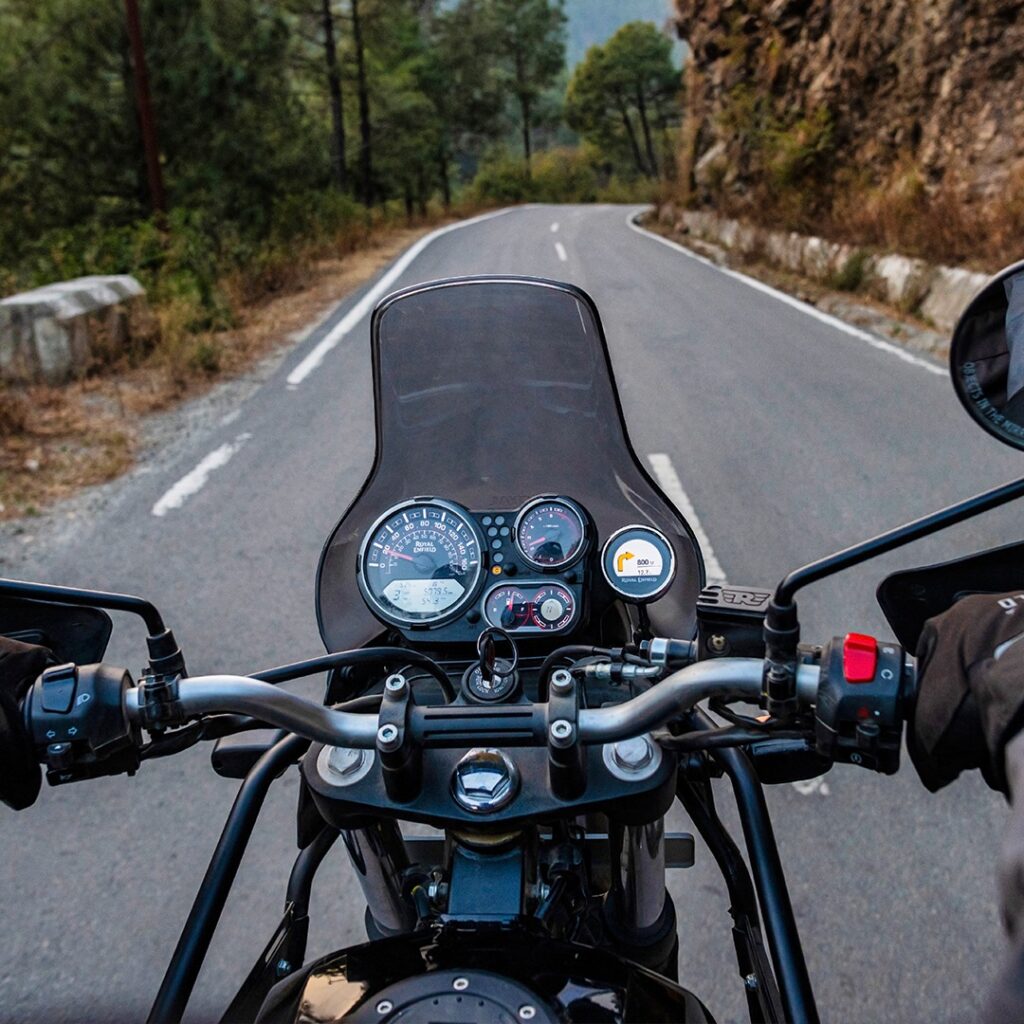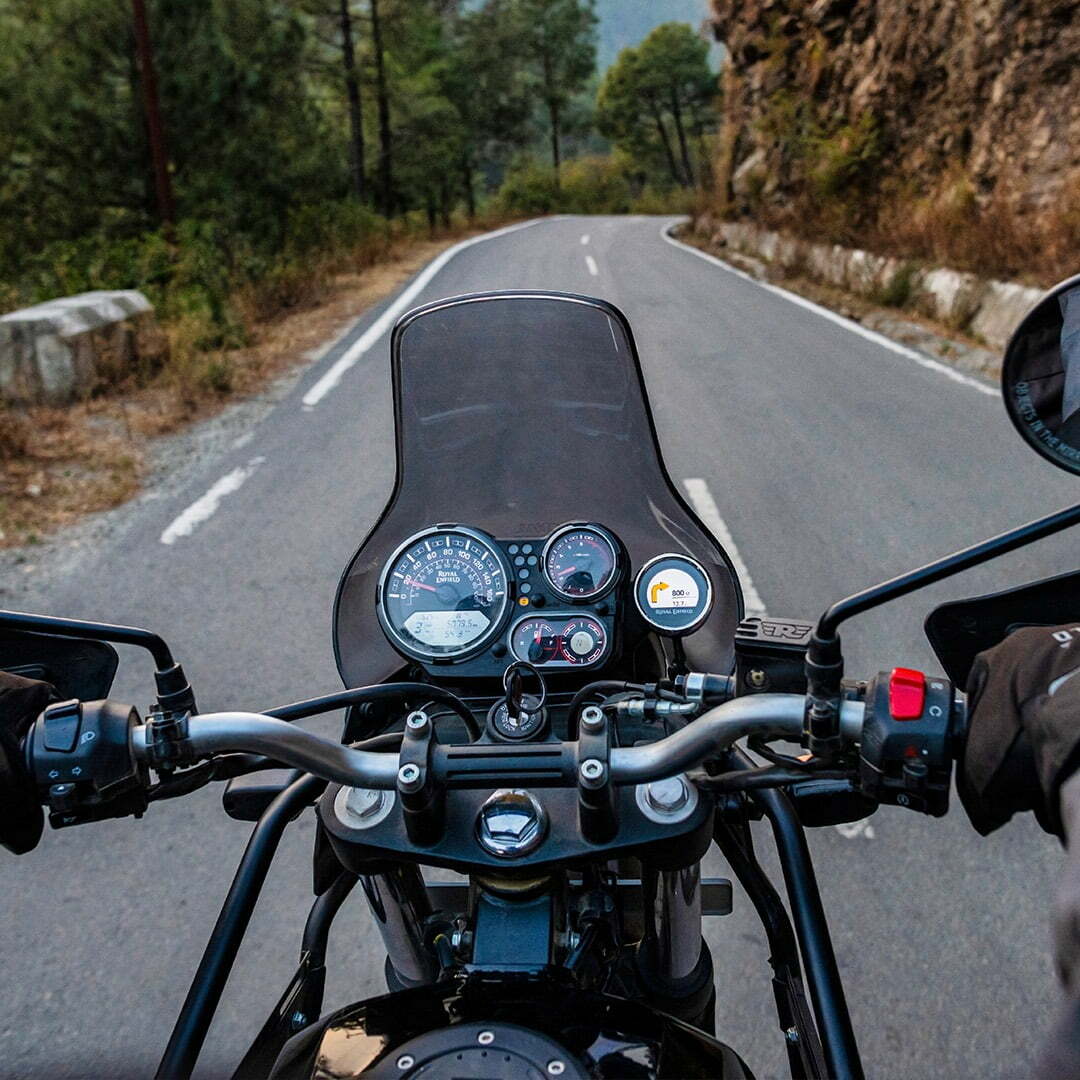 Tubed Tyres
Although it is evident because of using spoke wheels. We can't make spoke wheels tubeless easily, there is a "JUGAAD" which companies can do to make it tubeless. By getting that thing done, we can solve the problem of tubed tyres.
Heavy Weight
Believe it or not, just like any other Royal Enfield motorcycle, Himalayan is also a very heavy motorcycle. It weighs close to 200KG. For newbies, it might take some getting used to it.
No liquid-cooled engine
The liquid-cooled engine performs better during long rides as breakdown hardly occurs(it can still happen if you don't service your bike properly) during long rides as compared to an air-cooled engine which needs some rest to cool down to avoid engine breakdown.
Could have been more powerful
Torque is sufficient, but power is slightly less considering it is a 411cc motorcycle. It becomes difficult(sometimes) to maintain higher speeds(100+KMPH).
Conclusion:
In the end, I would say that Royal Enfield has improved Himalayan tremendously, most of its flaws are gone and the overall quality of this motorcycle has improved.
If you want a bike to use for touring, consider this one, take a test ride, and experience how much it has improved. Himalayan can fulfil all of your requirements related to touring and off-roading.
For the daily commute, consider other options as it would be an injustice to this motorcycle if you use it only for daily commutes and city rides. Its potential will be unlocked only if you take it on long rides and off-roads.
For beginners, this bike will be a good start in terms of power and feedback, but its weight might annoy you sometimes in the beginning. If you can manage the weight of this bike, go for it.
The mileage is good, you can expect somewhere around 30KMPL(highway+city) along with a big fuel tank of 15L. The tank range is going to be superb.
Sharp U-turns will be difficult as this bike is on the heavier side. Cornering is also not possible, it's not meant for that.
I hope you got the answer to whether you should purchase this bike or not. Do let me know what you think about it.
Thank you.