If You are planning to buy TVS apache RR 310 in India then this article should solve all your doubts about the bike. I will be covering all the Pros and cons and other detailed specifications about this bike. If you have any questions about apache RR 310 then please feel free to comment down. So let us see what makes this bike a combination of beauty and the beast. and is it still worth buying in 2023?
In December 2017, TVS launched its ultimate track weapon TVS Apache RR 310. Since then, this bike has proved the capabilities of an Indian manufacturer in the highs of Japanese and European competition. As said by the company, this bike is tested and actually designed inside a wind tunnel to get the highest co-efficient of drag, which makes this bike a lot better in terms of its aerodynamic nature.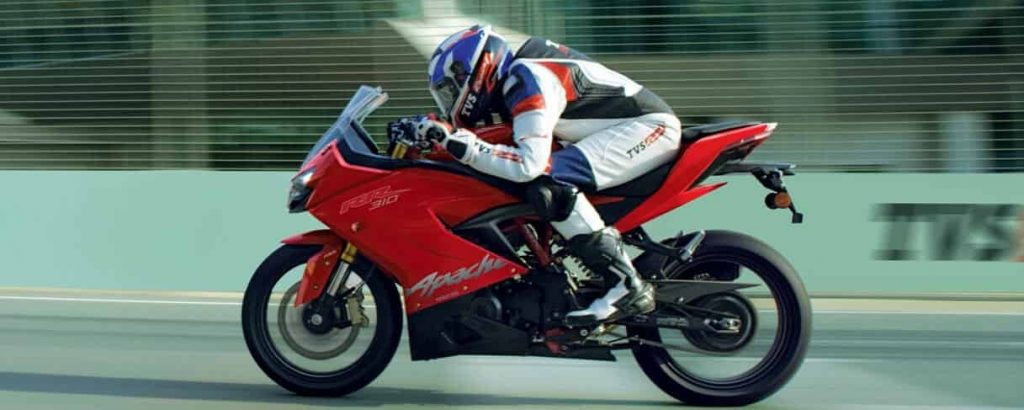 Apache RR 310 flagship track weapon from TVS is one good bike which can prove that Indian manufacturers have the potential to compete against the Japanese and European rivals, which generally rule the motorcycle market in most of the places.
It is very much popular in markets like India (Biggest market by the way). So, in terms of competition, this segment has a huge competition among the brands from around the world. Let it be a Japanese brand, a European or even an Indian brand. Everyone wants to provide a better value.
As far as performance is concerned, you will be amazed by the kind of performance this bike has on offer. The TVS Apache RR comes with Powerful 312.2 cc single-cylinder liquid-cooled fuel-injected motor, It is lightweight, nimble and can easily be controlled by anyone (newbie or professional). It has great looks, you will start getting attention from the very first day you start riding this bike.
The Apache RR 310 is packed with smart and powerful features for modern bikers, Its Aerodynamic design makes sure that the rider doesn't get any sort of wind blast at higher speeds. It comes with a cool instrument console which displays the speed, fuel level, temperature, gear indicator, clock, odometer and stand down indicator and many more features.
Table of Contents
Key Features of TVS Apache RR 310
Elegant Design
Comfortable ergonomics
Stylish Instrument console
Braking
Quality
The fact that an Indian manufacturer is competing against the other international brands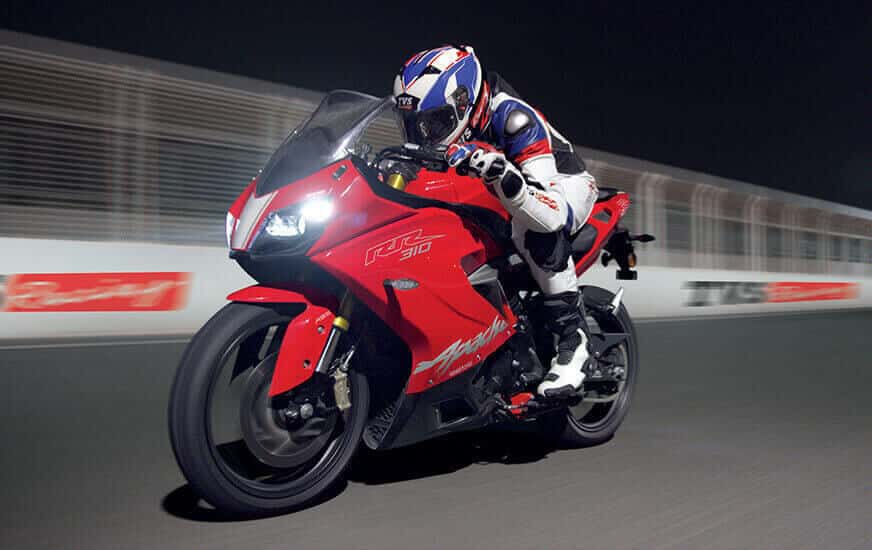 TVS Apache RR 310 SPECIFICATIONS
Colour Variant
TVS Apache RR 310 is available in 2 colours which are Phantom Black and Racing Red.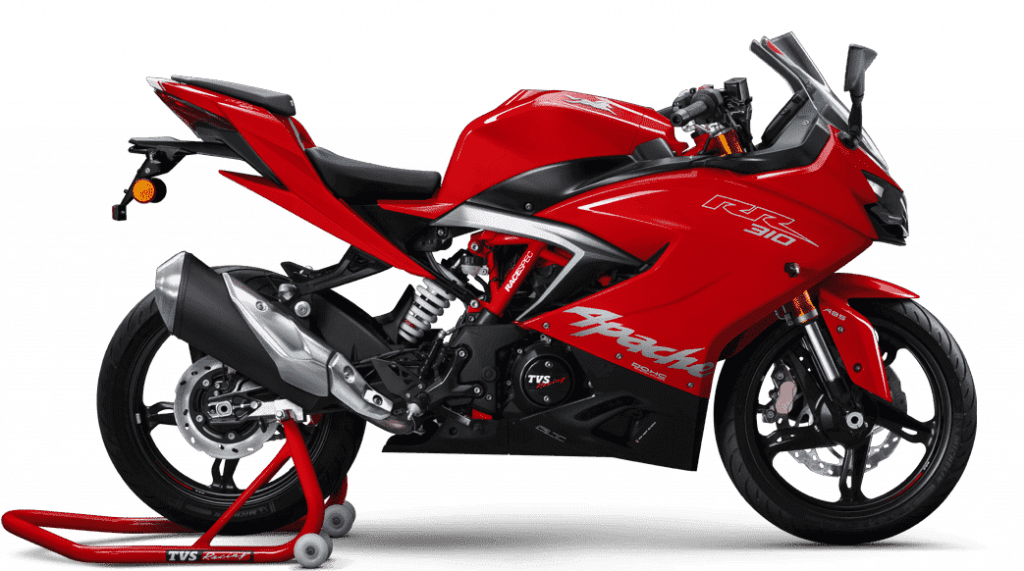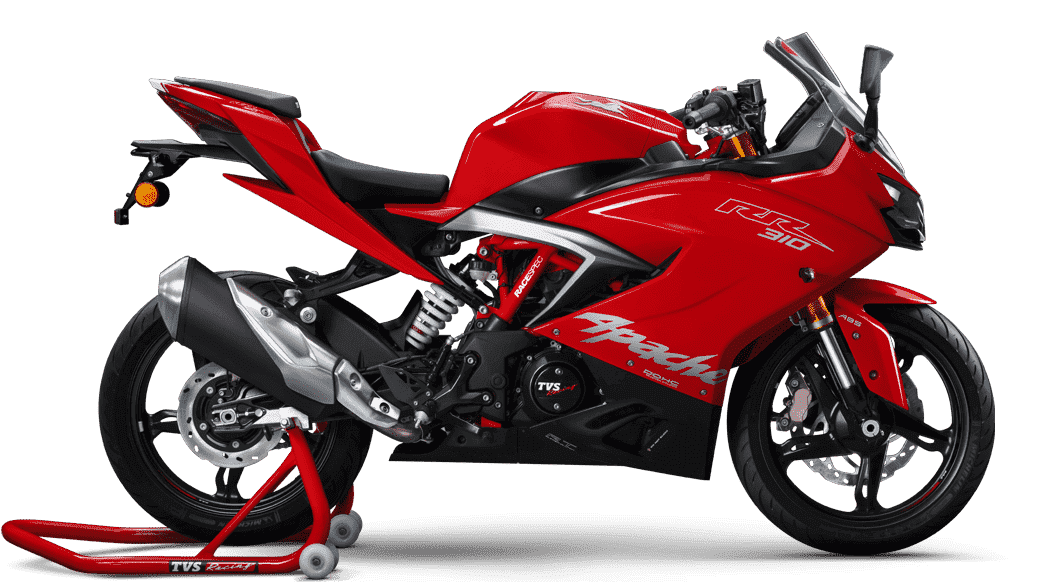 RR 310 Engine Specification
The New TVS Apache RR 310 version will have the following Engine Specification.
| Engine Specification | Values |
| --- | --- |
| Displacement | 312.2cc |
| Power | 34 bhp @ 9700 rpm |
| Torque | 27.3 Nm @ 7700 rpm |
| Engine cooling | Liquid cooling |
| Emission Standard | Bharat Stage – 6 (BS-6) |
| Number of cylinders | 1 |
| Fuel delivering system | Closed-loop Electronic Fuel Injection unit by Bosch |
| Ignition | Dynamically controlled integrated high energy ignition system(Bosch- Closed-loop EFI) |
| Fuel type | Petrol |
| Bore | 80 mm |
| Stroke | 62.1 mm |
| Transmission type | Chain drive |
| Clutch type | Slipper clutch |
| Gearbox type | Manual Transmission |
| Number of gears | 6 |
| Valves per cylinder | 4 |
Performance
| TVS Apache RR 310 Speed | Values |
| --- | --- |
| Max speed | 160 km/h |
| Acceleration 0-2sec in km/h | 46.77 km/h |
| 0-60km/h (time in sec) | 2.93 s |
| 0-100km/h (time in sec) | 7.17s |
Fuel Efficiency
| Fuel Specification | Values |
| --- | --- |
| Fuel tank capacity | 11 Litres |
| Fuel tank range | 330-385 KMs(approx.) |
| Mileage | 30-35 km(May vary according to the usage pattern) |
Wheel and Tyre
| | |
| --- | --- |
| Tyre (front) | 110/70-R17 M/C 54H Tubeless |
| Tyre (rear) | 150/60-R17 M/C 66H Tubeless |
Electricals
| | |
| --- | --- |
| Battery | 12V, 8Ah |
| Tail lamp | LED 4 W |
| Headlamp | LED projector, 30W @ 13 V |
Brakes
| | |
| --- | --- |
| Front | Disc 300mm Petal type with ABS |
| Rear | Disc 240mm Petal type with ABS |
| Brake | Fluid dot 4 |
Version Dimensions
| Dimensions of Apache | Value |
| --- | --- |
| Height | 1135 mm |
| Length | 2001 mm |
| Width | 786 mm |
| Saddle height | 810 mm |
| Wheelbase | 1365 mm |
| Ground clearance | 180 mm |
| Dry/Kerb weight | 169.5 KGs |
TVS Apache RR 310 Pros
The Stylish design will make you fall in love. It is crafted with perfection which makes you stand out from the crowd.
This bike Gives decent Mileage in this price range. Decent in the sense that other bikes from this segment lack behind in this department. So, it is a + point for Apache RR310.
With the new Advanced Aerodynamic design, this bike will give you a good riding experience and comfort. Its strong and beautifully crafted windscreen keeps you safe from heavy blasts at higher speeds.
Good Quality: This point is the most appealing one here. You can't deny the fact that this machine is one of the best-looking bikes in this segment or I can say that it is the best-looking bike in the segment.
Linear Power Delivery: There are tons of bikes which have aggressive power delivery, this one stands out of the crowd with its beginner-friendly power output which is good for every class of riders.
TVS Apache RR 310 Cons
Even if you feel this bike is refined, it has ample of vibrations at higher RPMs. That kinda makes it a bit uncomfortable(not much though).
The price of this bike is way too much for the kind of performance, quality is justified but, all other bikes in this segment produce much high power and are better in terms of performance, this bike lacks that kind of power.
Heating is an issue. Even though it has vents to let off the heat, heat tends to hit the inner part of your thighs, which can inadvertently affect your manhood.
Sound. It looks like a big bike, but, when it passes by some streets its sound doesn't attract much attention as much as its design serves the purpose, It sounds like a 150-200 cc bike. And that's painful.
No ride-by-wire. At this price point when it competes against the ark rivals like KTMs, it could have provided ride-by-wire.
FAQ about Apache RR 310:
What are the colours available in TVS Apache RR 310?
TVS Apache RR 310 is available in 2 colours: Racing Red and Phantom Black.
What is TVS Apache RR 310 ex-showroom price in India?
The Apache RR 310 ranges from ₹2.16 lakhs to ₹2.28 lakhs in India.
What is the mileage of the Apache RR 310?
Apache RR 310 gives a mileage of 30 to 35 km/l which varies according to the usage of the bike.
What is the top speed of the Apache RR 310?
The Apache RR 310 gives a maximum top speed of 160 km/h.
Who are the Competitors of TVS Apache RR 310?
The following bikes are Competitors of the TVS Apache RR 310!
1. Kawasaki Ninja 300
2. KTM RC 390
3. Yamaha YZF-R3
4. BMW G 310 R
5. Honda CB300R
6. KTM Duke 390
Is the TVS Apache RR 310 suitable for track riding?
Yes, the TVS Apache RR 310 is designed with a focus on performance and handling, making it suitable for both street and track riding. Its aerodynamic fairing, sporty riding position and responsive engine contribute to an exhilarating riding experience on the track.
Does the TVS Apache RR 310 have an adjustable suspension?
Yes, the TVS Apache RR 310 features upside-down (USD) front forks that are adjustable for preload, allowing riders to fine-tune the suspension according to their preferences and riding conditions.
Does the TVS Apache RR 310 come with ABS?
Yes, the TVS Apache RR 310 is equipped with dual-channel ABS (Anti-lock Braking System) for enhanced safety and improved braking performance.