After KTM, Husqvarna is expected to be the next Austrian brand to set the market on fire with its 2 models namely, Svartpilen 250 and Vitpilen 250. In this article, I am going to talk about Husqvarna Svartpilen 250.
So, Svartpilen 250 is based on the Scrambler concept meanwhile, the Vitpilen 250 is based on the Cafe-Racer concept.
Many of you might have this question "Is Husqvarna Svartpilen 250 a complete package? ". Well, I will ask you the same question at the end.
Quarter litre segment of motorcycles in India has great competition among budget motorcycles and performance motorcycles.
Let's see if Husqvarna Svartpilen 250 can make it to the best 250cc motorcycle in India or not.
1. Key Features of Husqvarna Svartpilen 250:
Elegant Design
Comfortable Ergonomics
Versatility
Performance
Elegant Design: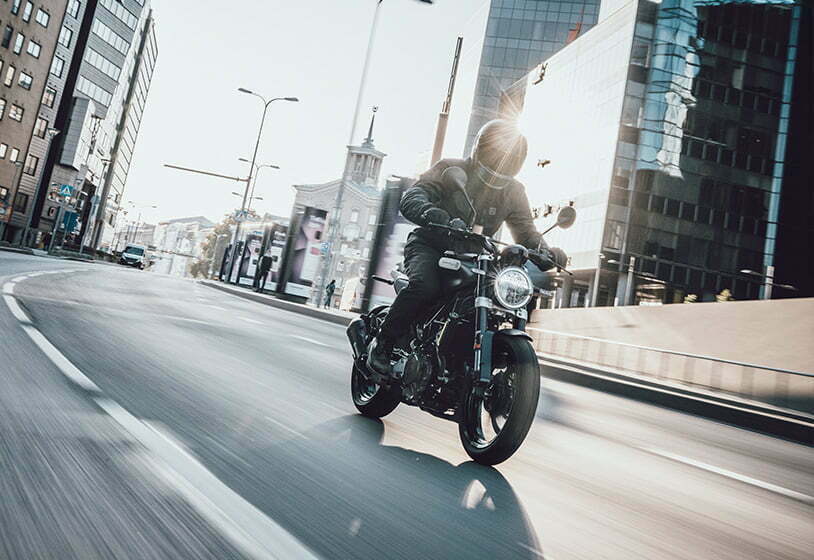 This is the area, where I feel everyone will agree that it is one of the best-looking motorcycles available in India. Let alone its rivals, it can even compete with bigger bikes in terms of looks. It has a Modern-Retro design which will surely attract a lot of eyes.
It has a solid road presence. With a beautifully carved fuel tank, trellis frame, raised handle-bars(with triple clamps), standard luggage rack(for mounting a tank bag with ease) and much more. 
This is the most beautiful 250cc motorcycle available in India. It has totally fresh look, which no other motorcycle has on offer.
So, the design is a plus point on this motorcycle.
Comfortable Ergonomics: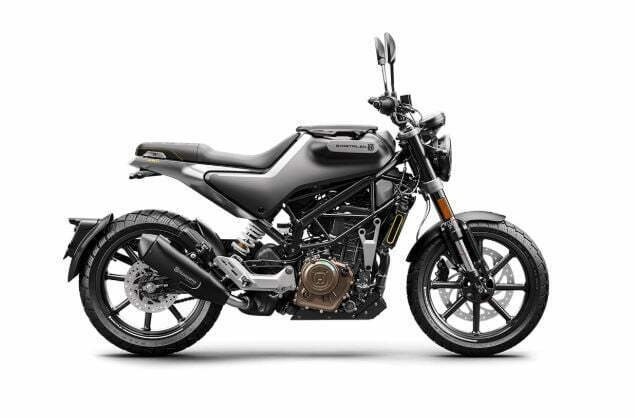 Comfort is one of the characteristics of a scrambler which justifies its objectivity of it. Svartpilen 250 is very much comfortable. Riding ergonomics are superb. You'll have a comfortable posture for long rides.
Even the low-profile seat is very much comfortable as well as durable. You don't have to rely on any extra-cushioned/padded seat for comfort, the stock seat is sufficient for any riding style.
Versatility: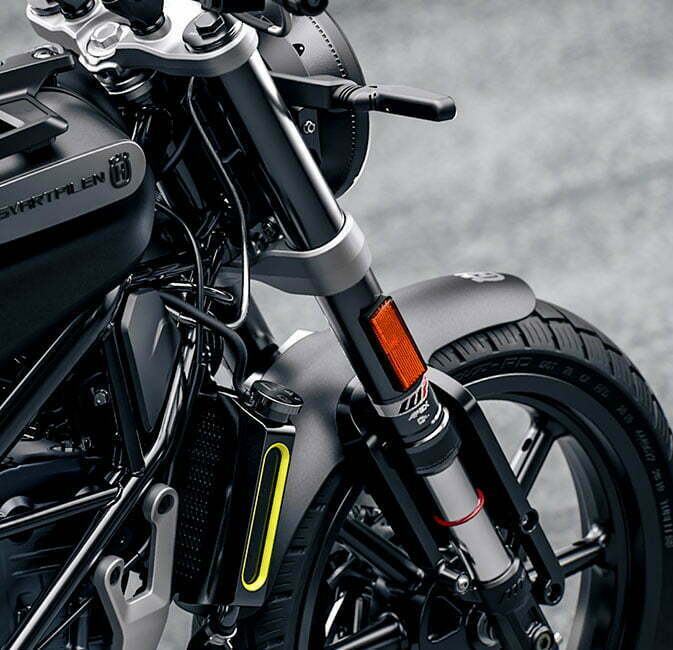 Scramblers are versatile in nature. You can use them on highways, urban streets, off-road, and even no roads ;p.
This motorcycle will serve the purpose of any sort of riding.
It has a WP Suspension setup, which is pretty good in the modern era, considering the fact that it is not much expensive in India(cheaper than Duke 250).
You can take this motorcycle on any terrain. But remember one thing, it is fitted with Alloy-wheels and not spoke wheels. So, you won't be able to take it to extreme off-road conditions.
Moreover, ground clearance is sufficient for urban conditions, but, you'll have to take precautions in off-road conditions since it is not much to tackle any big bump(well, you'll hardly face such issues, but safety is better than cure).
Performance:
Performance is a factor which can decide the worth of a machine. In this motorcycle, the engine is borrowed from KTM Duke 250, another superb 250cc motorcycle which is the most powerful 250cc in India right now.
It produces 30.84 bhp of peak power and 24 Nm of peak torque, making it the most powerful 250cc motorcycle in the Indian market.
2.Husqvarna Svartpilen 250 (BS6) Specifications:
Colour Variants:
Husqvarna Svartpilen 250 is available in just 1 colour variant, which is Black and Blue Moonshine.
Engine specifications:
| | |
| --- | --- |
| Displacement | 248.76cc |
| Power | 30.84 bhp @ 9000 RPM |
| Torque | 24 Nm @ 7250 RPM |
| Engine cooling | Liquid Cooled |
| Emission Standard | BS6 |
| Number of cylinders | 1 |
| Fuel delivering system | Fuel Injection |
| Ignition | |
| Fuel type | Petrol |
| Bore | 72 mm |
| Stroke | 61.1 mm |
| Transmission type | Chain Drive |
| Clutch type | Multi-Disc Slipper Clutch |
| Gearbox type | Manual Transmission |
| Number of gears | 6 |
| Valves per cylinder | 4 |
Performance/Fuel Efficiency:
| | |
| --- | --- |
| Max speed | 145 KMPH |
| Fuel tank capacity | 9.5 Litres |
| Fuel tank range | 260-300 KM(approx.) |
| Mileage | 35-38 Kmpl(May vary) |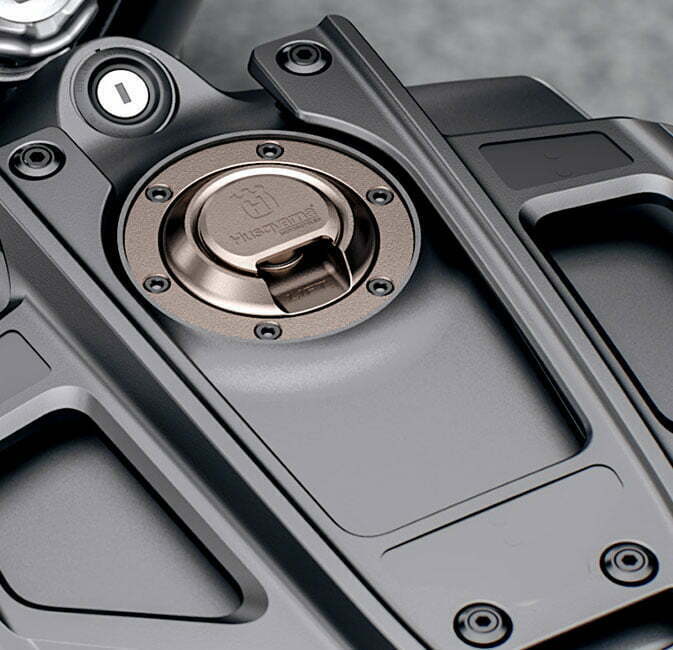 Wheels, Tyres and Suspension:
| | |
| --- | --- |
| Tyre (front) | 110/70-R17,54H |
| Tyre (rear) | 150/60-R17,66H |
| Front Wheel Size | 17 inch |
| Rear Wheel Size | 17 inch |
| Tyre type | Tubeless |
| Wheel Type | Alloy Wheels |
| Radial Tyres | Yes |
| Front Suspension | WP APEX – USD 43 mm |
| Rear Suspension | WP APEX – Monoshock |
Brakes:
| | |
| --- | --- |
| Front Brake | Disc with ABS |
| Front Brake Size | 320 mm |
| Rear Brake | Disc with ABS |
| Rear Brake Size | 230 mm |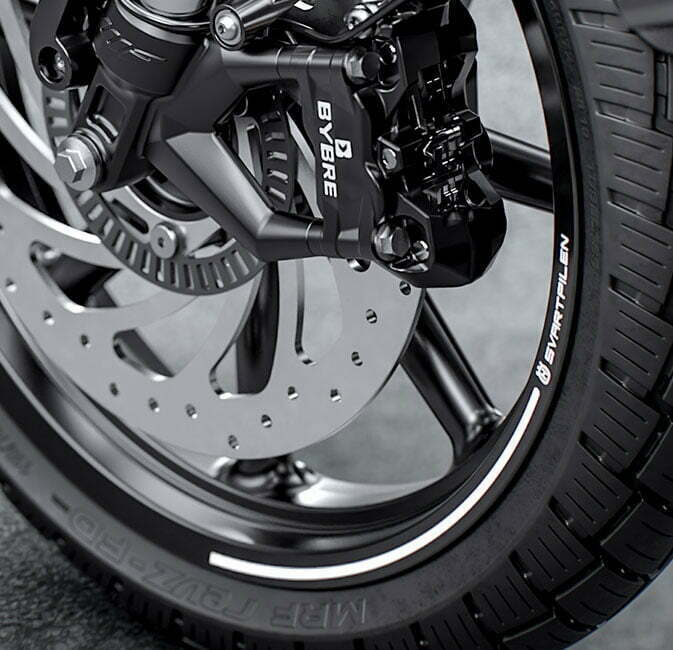 Electricals:
| | |
| --- | --- |
| Headlight Type | LED |
| Tail Light Type | LED |
| Battery | 12 v/8 Ah |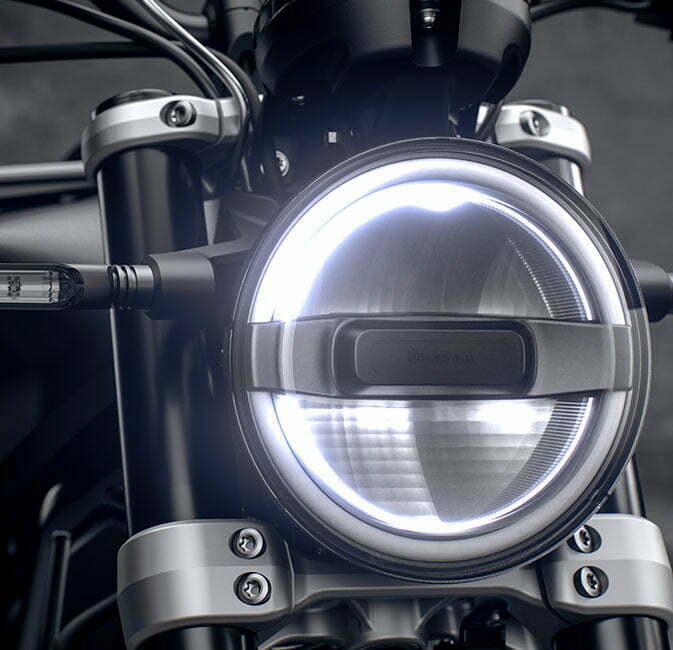 Dimensions:
| | |
| --- | --- |
| Dry Weight | Powder-coated Steal Trellis Frame |
| Seat Height | 835 mm |
| Ground Clearance | 145 mm |
| Chassis Type | Powder coated Steal Trellis Frame |
3. Husqvarna Svartpilen 250 Pros and Cons:
Pros:
Its totally fresh and elegant design would make anyone fall for the beauty of this motorcycle. The way it's crafted is the reason all the heads are going to turn around to praise this beauty.
Its versatile nature is one of the main reasons why desired people are attracted to it. You can take it almost everywhere since it is a scrambler and hence can be your partner in your adventure rides.
Exceptional mileage makes it an efficient motorcycle to own. With decent mileage of 35-38 KMPL and good power delivery, this bike is one of those powerful yet efficient motorcycles available to choose from.
Having said that it has good power figures, it is the most powerful 250cc single-cylinder motorcycle available in the Indian market right now. So, those who want a powerful machine with decent mileage can blindly opt for this motorcycle.
The motorcycle has Linear Power Delivery throughout the rev band, the power is well distributed making it a better option for any rider.
Good quality Dual-purpose tyres for better performance on any terrain.
It comes with a luggage rack on the fuel tank to easily mount a tank bag(be it a regular tank bag or a magnetic tank bag). This one feature truly justifies its capabilities. This motorcycle is meant to explore.
Comfortable seats(for both rider and pillion). Seats play a very important role in long rides. This motorcycle is blessed to have a very comfortable seat and seating posture. It's neither too hard nor too soft, just "perfectly balanced as all things should be" ;p
Cons:
It has a very small fuel tank at 9.5 Litres :(. Having that small fuel tank would be annoying in your long rides, especially when you want to cover long distances non-stop. Also, during your adventure rides, it becomes difficult to find a fuel bunk, which is a nightmare because you'll never want to be stranded in a jungle without petrol.
The seat height is very high. People with short heights might face some issues in heavy traffic conditions as well as on rough terrain(off-roads during adventure rides). Planting your feet on the ground gives confidence, but if you have enough experience in dealing with tall seat height, then you are good to go. Remember one thing, the seat is slightly narrow, so things might not be that tough.
Although the ground clearance is pretty good, I feel you will face certain issues on rough terrain(off-roads during adventure rides). The bottom of the motorcycle tends to hit the pebbles(not often though). You must take care of it and know your bike's capabilities.
Alloy wheels are great for high-speed stability, but they underperform on rough terrain. They tend to get cracked if they face higher tension, which in spoke wheels is not a problem at all. Spoke wheels can easily absorb more shocks and are a better option for adventure touring than the alloy-wheels. Well, making spoke wheels tubeless is another costly affair, that's why most of the companies provide alloy wheels to reduce the cost.
4. Conclusion: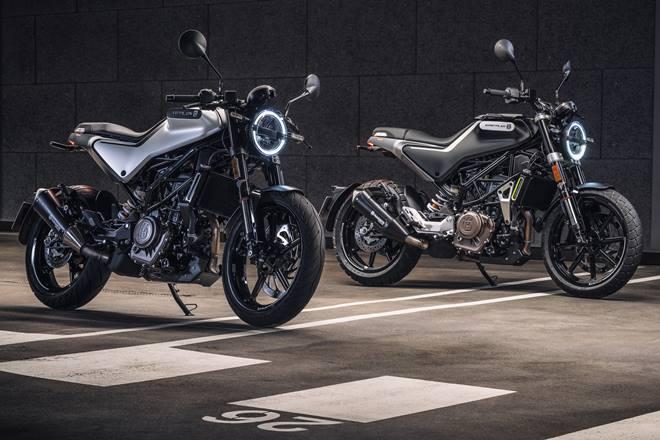 Well, being a scrambler, this motorcycle checks all the boxes to provide the best value. Still, it lacks a few important areas to fulfil its objectivity. I feel like it must have a larger Fuel Tank Capacity at around 15 Liters(currently it is just 9.5 Litres).
The person who is looking forward to buying this bike might step back because of this major reason. Although the mileage is good enough, still you have to stop for a top-up every 250-280 KMs. Next, I wish they give an option for Spoke-wheels since it will serve the purpose and objectivity of this motorcycle.
Finally, I would say, if you are eager to get an all-rounder machine which is affordable as well as better in terms of quality(and performance as well), buy this motorcycle without any second thought.
If you are more of a long-distance touring guy, make sure you carry 2 Jerry cans with you to extend your riding range, as the fuel tank would interrupt it often. 
So, what do you think? Is Husqvarna Svartpilen 250 a complete package? I hope you have got your answer.
5. Frequently asked questions regarding Husky Svarty 250:
What are the colour options available for Husky?
It is available in just 1 colour right now, I wish they include more colours in future models.
What is the top speed of the Husky Sarvty 250?
You can expect its speed to be around 145 KMPH.
What is the mileage of the Husky?
Husqvarna Svartpilen 250 gives a mileage of around 35 to 38 KMPL (may vary according to usage pattern)
Any competition for this motorcycle?
Actually, there is no direct competition for this motorcycle since no other company produces a scrambler of 250cc in India at the moment. But, we can surely compare other motorcycles of similar price ranges and engine capacity which are as follows:
1. KTM Duke 250
2. Suzuki Gixxer 250/Gixxer SF 250
3. Yamaha FZ-25
4. Royal Enfield Himalayan
5. Bajaj Dominar 250
Is it worth buying?
Absolutely. If you are looking for a motorcycle which can be taken almost anywhere, you are good to go. In fact, Husqvarna Svartpilen 250 is one of the best value-for-money motorcycles available in the Indian market right now.